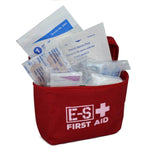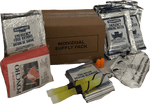 Echo-Sigma 10 + Person Emergency School and Office Cube
$349.99
.
The Echo-Sigma Emergency School/Office Cube is the perfect building block for you and your team. Every quality emergency kit requires dozens or even hundreds of components and now we've done all of the heavy lifting for you! The Cube provides you with a great setup for up 20 people or more if rationed, food, water, first aid, and other smaller items to form a rock solid foundation of emergency preparedness!
You'll be good to go! The cube offers 10 individual supply packs (each supply pack is good for 1-2 employees) and 1 Warden pack (for the supervisor of emergency situations) This kit is delivered to you completely assembled and ready to go, guaranteed. We recommend 1 cube for every 10 employees.  Keep it centrally located and easy to access for that just in case scenario.
We recommend 1 Emergency School and Office Cube for every 10-20 students or employees. Depending on usage.
Kit contents include:
Echo-Sigma Office cube box

1 Warden Supply Pack
10 Individual Supply Packs

Echo-Sigma Warden supply pack contains the following
1 Bright colored supervisor vest
Emergency Blanket 
1 Pair of hand warmers
1 Notebook 2 x 3 inches
1 Bic pen
1 Bic lighter
50 Inches of Duct Tape
1 box of 40 waterproof matches
1 pair of work gloves
1 Wallace guide book
Echo-Sigma Compact First Aid Kit
1 pair 4" scissors
1 pair 3" tweezers
20 plastic bandages
12 alcohol swabs
10 wet wipes
10 antiseptic swabs
2 3"x3" sterile gauze pads
1 2"x5yd. gauze roll
1 5"x9" sterile abdominal dressing
1 0.5"x2.5yd. roll of tape
Cree XP-E LED with a lifespan of 50,000 hours
Digitally-regulated output to maintain constant brightness
Three Brightness Levels:

High - 187 Maximum Lumens - Run Time 2 hr. 20 min.
Mid - 90 Lumens - Run Time 6 hr. 15 min.
Low - 27 Lumens - Run Time 26 Hr.

Intelligent Memory Circuit: Automatically enters the previous used brightness level when turned on
Uses two 1.5V AA (Alkaline, Ni-MH, Lithium) batteries, inexpensive and widely available
Reverse polarity protection guards against improper battery installation
Made of durable aircraft-grade aluminum
Type III hard-anodized anti-abrasive finish
All-function switch; simple and convenient operation
Waterproof to IPX-8 Standard
Capable of standing up securely on a flat surface to serve as a candle
Slip-resistant body design provides for a comfortable and secure grip
Toughened ultra-clear glass lens with anti-reflective coating
At only 3.9" in length, the Micro ToolClip has the essential, everyday tools for clipping thin wires, driving screws, opening bottles, and general cutting duties. The spring-loaded pliers are easy to use and lock closed when not in use. Don't get caught unprepared by carrying it in your everyday pack or pocket. Components include pliers, soft wire cutter, gripper, large flat screwdriver, 2-sided file, small flat screwdriver, bottle opener, straight blade, & Phillips screwdriver.
Blade (Straight)
Bolt/Nut Gripper
Bottle Opener
File
Flat Screwdriver (Large)
Flat Screwdriver (Small)
Phillips Bit
Pliers
Wire Cutter (Soft)
1 Midland ER210 Multi-power Radio
This compact emergency crank radio with weather alert is perfect for both emergency preparedness and everyday use.
Multiple Sustainable Power Sources – Solar, hand crank, rechargeable battery
Extremely Bright Flashlight Uses Cree®* LEDs – 1400 Lux
SOS Flashlight Beacon – Activates Morse code for emergency assistance
Long Battery Life – 2000 mAh rechargeable Li-Ion battery gives up to 25 hours of normal use
Smartphone/Tablet Charger – Charge your devices through USB connection
NOAA Weather Radio with Alert – Weather alerts sound when issued on local channel
Low/High Flashlight Brightness Settings – Lets you adjust to conserve battery life
Ideal for Emergency Preparedness, Camping, Beach, Park, and Everyday Use
Digital AM/FM and Weather Band Radio
 10 Individual Supply Packs (each supply pack includes the following)
1 Emergency Poncho
1 Emergency Blanket
8 individual water packs 4.2 ounces each
3 Ration Bars 400 calories each
2 Chemical Light Sticks by Coghlan's
1 pair of ear plugs