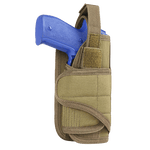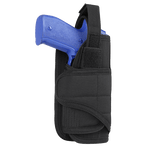 Condor MA69 Universal Pistol Holster
$19.95 $21.95 You save: 9% ( $2.00 )
.
The Condor Outdoors MA69 Holster will secure your weapon to any MOLLE compatible system. That means any Echo-Sigma pack or other item with MOLLE webbing. This
holster
is designed for vertical orientation.
Mount VERTICALLY on MOLLE platform
Wrap-around design to fit pistols with laser or flashlight mount
Retention system installed in the Condor Universal Pistol Holster with additional hook and loop strap to secure accessories
Size: 3 3/4" W x 8" H x 1 1/2" D
Ready-to-Use Kits Packed By Hand in the U.S.
Being prepared is always a good idea. But, finding the right equipment and tools you need to successfully navigate any situation can be tough. Here at Echo-Sigma, we offer a wide range of high-quality accessory products — like the Condor Universal Pistol Holster — alongside our Echo-Sigma emergency kits to help you plan for any potential scenario. This gear is rugged and durable. We offer assured quality for all of our products so that you can build your ready-to-use kit while saving time and money in the process. No matter what your survival needs are, Echo-Sigma is here to help.
A Family-Owned Company Dedicated to Your Needs
When shopping with Echo-Sigma, you don't just get high-quality, ready-to-use kits and equipment like the Condor MA69. These kits are packed in the U.S. by hand. We also make it easy for you to source the right survival tools. We offer free shipping on orders over $300 and superior customer service that answers all of your questions. And a percentage of your sale supports the Wounded Warrior Project. Whether you're in the market for a kit that's ready to go or you want to customize your own, we're your one-stop survival shop. Don't wait for the next disaster. Save time with our pre-packed kits or create your own today!